Anna's Alimentos
Do you know what alimentos means?  It's the Spanish word for food, just every day kind of food; simple, fun, and kid friendly food.  Check out this spot for new recipes on a regular basis.  Here are some to get you started.
                    CHOCOLATE CHIP ZUCCHINI CAKE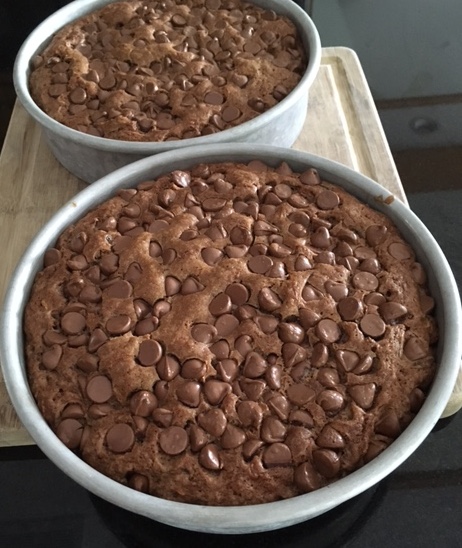 ---
1/2 c. butter                                                                    2 1/2 c. flour
1 3/4 c. sugar                                                                   2 Tbsp cocoa powder
1/2 c. oil                                                                         1 tsp baking soda
2 eggs                                                                           1/2 tsp baking powder
1 tsp vanilla                                                                     1 tsp cinnamon
1/2 tsp cloves
1/2 c. buttermilk
2 c. peeled and shredded zucchini (1 medium sized zucchini)
2 c. semi-sweet real chocolate chips
Preheat oven to 350 degrees.  In a large mixing bowl cream together the butter and sugar.  Beat in the oil, eggs and vanilla.  Combine the dry ingredients in a separate bowl. Alternately add the dry ingredients and the buttermilk to the creamed mixture.  Stir in the grated zucchini.  Pour into a greased 9×13 pan.  Sprinkle with the chocolate chips.  Bake at 350 degrees for 45 – 50 minutes or until a toothpick inserted in the center comes out clean.  Cool on a wire rack.
Prep time: 15 minutes
Baking time: 45 – 50 minutes
Serves: 15 – 18
Nutritional information:  Servings 15; Serving size 1 piece (114g)
Calories 380;  Calories from fat 170;  Total fat 18g;  Cholesterol 35 mg;  Sodium 170mg; Carbohydrate 56g;  Dietary Fiber 2g;  Sugars 36g;  Protein 4g.
---
               GARDEN TOMATO SOUP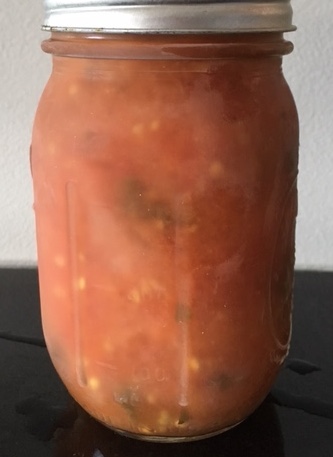 ---
2 tsp olive oil                                                                             5 c. diced tomatoes (~2 lbs.)
3/4 c. chopped onion                                                                    1  1/2 c. water
1 Tbsp chopped fresh oregano or basil                                                   2 1/2 Tbsp tomato paste
1 tsp chopped fresh or 1/4 tsp dried thyme                                             2 tsp sugar
2 garlic cloves, chopped                                                                1/4 tsp each salt & pepper
Heat olive oil in a large saucepan over medium heat.  Add the onion, oregano/basil, thyme and garlic.  Cook four minutes, stirring frequently.  Stir in tomatoes and remaining ingredients.  Bring to a boil.  Reduce heat and simmer for 15 minutes.  Let cool for 15 minutes.  Place half of soup in a blender or food processor.  Process until smooth or your desired consistency.  Repeat procedure with the remaining soup.  Serve warm or chilled.  Sprinkle with fresh basil, if desired.
Yield: 5 servings, 1 cup each
Nutritional Information:
Calories 81;  Fat 2.6g;  Protein 2.3g;  Carbohydrate 14.6g;  Fiber 2.9g;  Iron 1.3g;  Calcium 29mg