Did you know that Johnny Appleseed was a real person?  Some people think he came from someone's imagination, from a made up story, a fictional character.  But he was alive once just like you and me.  He loved the forest and trees of all kinds, but he especially loved apple trees.  He even enjoyed walking in among the trees in his bare feet!
Johnny Appleseed was born in Massachusetts on September 26th in the year 1774.  If he were still alive, he would be 241 years old today!  His real name was John Chapman, but he got his nickname, Johnny Appleseed, because he traveled around the country selling and giving away all kinds of apple seeds and apple trees.  He was a generous and kind man and often lent a hand to the new settlers as they built their homes.  He loved children and animals and he loved to tell stories.
So in honor of his birthday today, here's a little story about how to begin to make crab apple jelly.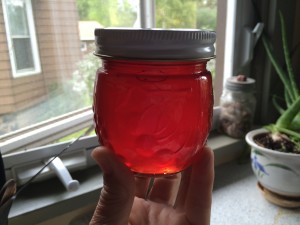 Want to join me as we make the apple juice?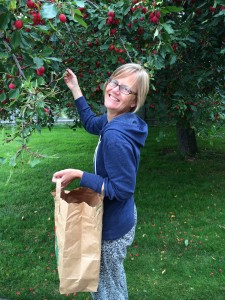 First we have to pick some crab apples,
and that's much more fun when you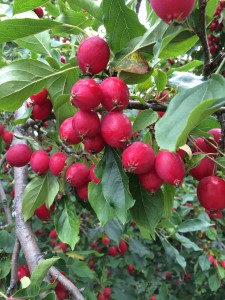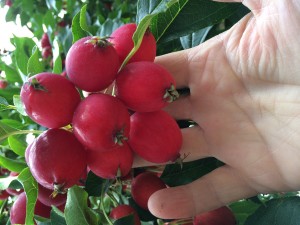 can pick them with a friend!
This is Sue,
and this is her crab apple tree.  Sue looks happy today.  Perhaps it's because she likes to share her apples with friends, just like Johnnny!
I'm glad she does.
I like to look at the little black leaves at the bottom of an apple.  Did you know those leaves used to be a little pink flower?  The flower grew up to be an apple!
What do you think of that?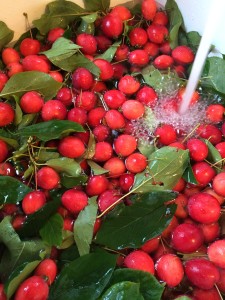 Now it's time to take the apples home and wash them.  I fill my sink with cool water and let the apples, stems and leaves take a bath.
Clean and shiny!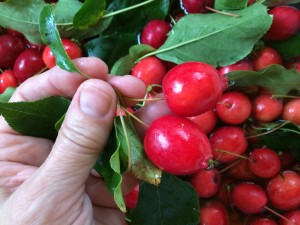 Next, the leaves come off and the apples cook in a little bit of water for about 30 minutes or so.  Don't worry about the stems.  We'll take care of those later.
The apples will get very soft, their skins burst and the sweet aroma fills the house.  It smells just like a…  Well, I guess it smells like a grandma's house!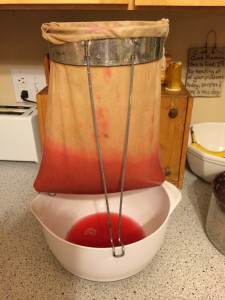 Once the cooked apples have cooled enough to handle safely, it's time to catch the juice.  First I mash the apples with the juice right in the pan.  Then I carefully scoop out some of the mixture and pour it into this fancy cloth bag.  Somebody gave me this once as a silly gift, but I actually liked it, the perfect tool for the job.  I call it my "Pulp Catcher, Juice Dripper".  All the apple pulp, skins, and stems stay in the bag, and the juice drips out little by little.  Patience…  It takes a few hours for most of the juice to drip out of the bag.  When I have all the juice I need, then I can make my jelly.
When I make apple jelly, I always follow the recipe in my recipe book for making jams and jellies.  But that's a story for another day, as Johnny might have said.  And now we know how to get the juice we'll need for that recipe.
Here's what the jelly looks like when it's finally done.  I see all the jars in those neat little rows,  and they seem like my friends.  Feeling kind of thankful for new friends.  It looks like they are ready and patiently waiting to be put in the pantry for a good night's rest.  I agree.  It was quite a long day.
Come over for tea sometime and we'll open a jar together.  Perhaps we can share a story or two.